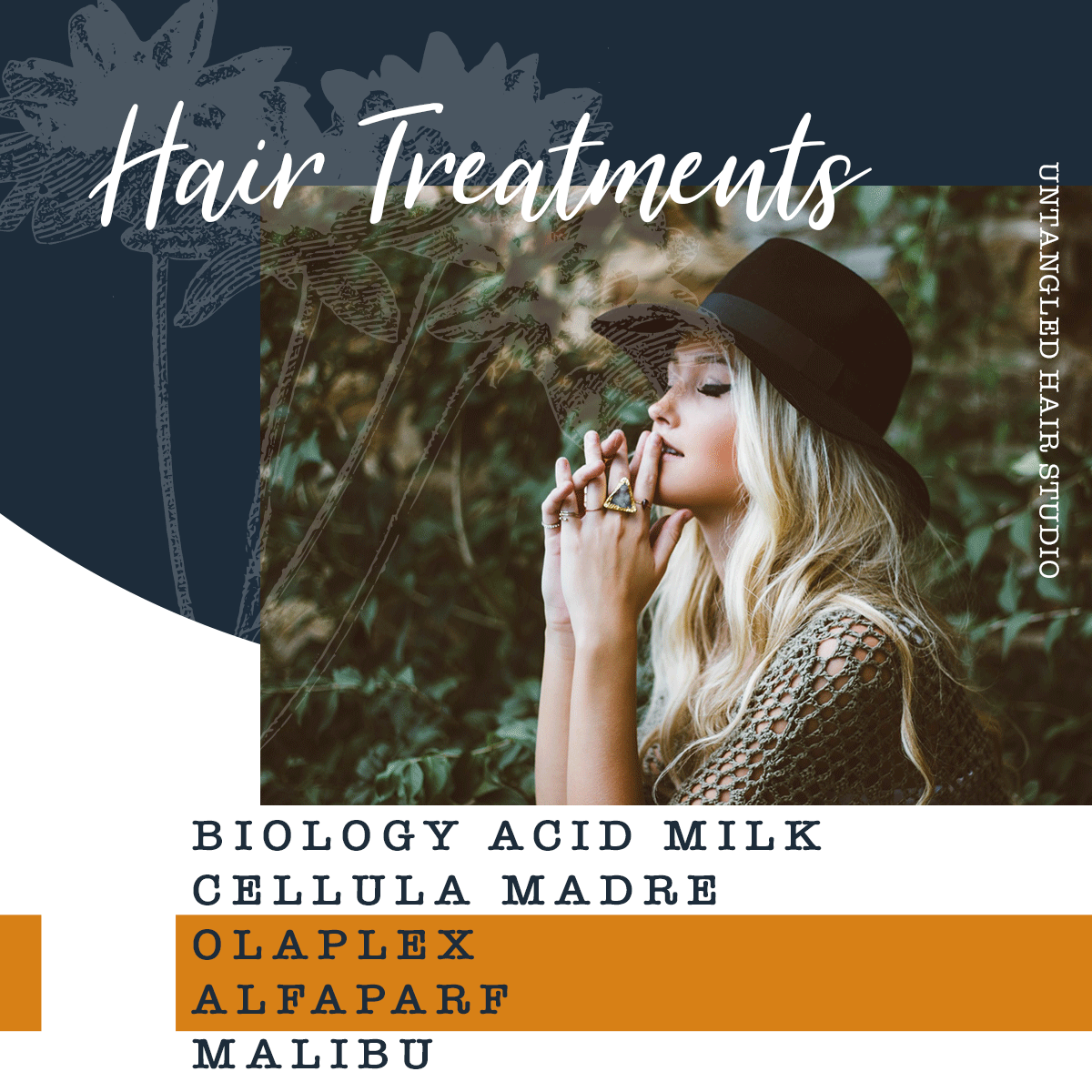 Olaplex
Olaplex is a 3 step process that works on a molecular level to repair damaged and broken bonds.
Step 1 - Repairs the broken bonds and rejuvenates the hair
Step 2 - Increases tensile strength and restores elasticity
Step 3 - Is an at home treatment (not a conditioner) that reduces breakage and visibly strengthens hair, improving it's look and feel. It restores your hair's healthy appearance and texture by repairing damage and protecting hair structure.
Recommended maintenance time
6-8 weeks
Biolage Acid Milk
Powered by coconut and oat milk, Biolage R.A.W color care acidic milk rinse transforms the look and feel of hair post-color service. The milk rinse smoothes the hair's cuticle, enhances color vibrancy and rebalances the hair's pH.
98% natural origin

91% biodegradable

Vegan formula

No parabens, silicones, or artificial colorants ​
Recommended maintenance time
6-8 weeks
​
​
​
​
Malibu C
Eco friendly - cruelty free - vegan - plant based
Malibu C offers a customized wellness hair care regimen for every hair type. Over 85% of the country is shampooing in hard water, which is packed with minerals and harsh chemicals that wreak major havoc on the hair, scalp, and skin. Hard water mineral build-up on the hair can cause color fading, poor gray coverage, brassy blondes, muddy or ashy hues, hair with little to bounce or body, it can even make highlights fade or 'disappear' in just a couple of washes after leaving the salon. Malibu C is formulated to help rectify all of these issues and more! Detoxes and defends hair against hard water minerals. Purified hair means that you will get excellent results with color and chemical services.
Recommended maintenance time
6-8 weeks
​
Alfaparf Beauty Genesis
Featuring 3 different treatments that purify, perfect and enhance the hair
​
Restructuring Multiplier
Repairs hair, increasing it's elasticity and strength without weighing it down.
​
Nourishment Multiplier
Gives hair extra nourishment without weighing it down
​
Glow Multiplier
Intensifies shine without weighing hair down
Recommended maintenance time
6-8 weeks
​
​
​
​
​
​
​
​
L'Oreal Power Mix Treatments
Instantly transform your hair!
Power Mix is a new intensive personalized treatment selected and prepared before your eyes. With this freshly made treatment, your hair is instantly magnified by a flash of shine and with unparalleled softness.
​
PowerMix Color
Adds shine and helps to extend the longevity of color treated hair
PowerMix Force
For for fragile prone to breakage
PowerMix Liss
Controls frizz and adds shine to rebellious or curly hair
PowerMix Nutri
Instantly nourishes dry hair
PowerMix Repair
Restore damaged hair
Recommended maintenance time
6-8 weeks
​